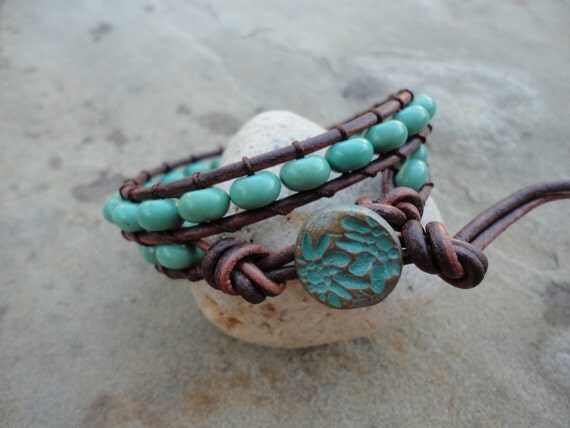 Here's a stunning example of the leather and bead bracelets so popular right now. You can buy this one
here
. Although this type of bead and leather design has been around, evidently designer
Chan Luu
is responsible for the current popularity.
If you want to try your hand at making one keep reading.
You will need the following items.
Leather cord: Mine was 2mm. Cut it 3 times your wrist measurement plus an inch or so .
Heavy thread: I used bonded nylon.
Beads: about 6 to 8 mm works well. line them up and you need about 6 inches give or take.
Needle that can handle the thread and go through your beads 2 times.
some sort of clip to hold the top of your cord and a base to clip to. I used a macramé set up.
Button for clasp.
Fold the leather in half and make a loop that fits over your button.Before you tighten the loop, insert your knotted thread and capture the knot in the loop. Clip the top of the loop to a board so you can put some tension on the cords as you work.
The thread follows a simple figure 8. Start by making a few figure 8's before you add any beads. First go over the right hand cord, then under the right hand cord. Next over the left hand cord and under the left hand cord. repeat.
you will add a bead after your thread passes under the left hand cord.
After adding a bead (starting from left to right) pass you needle and thread over the right hand cord, and under the right hand cord. To get to the left hand cord pass again through the bead.
Go over then under the left hand cord and at this point add your next bead.
Keep repeating this sequence of figure 8's until you reach the desired length.
After the last bead, again make a few figure 8's with thread alone, and tie off thread with a few half hitch knots. Secure thread with whatever glue you like. I used fray check instead of glue.
Now tie on your button. I had wanted a double knot here, but ran out of cord. Grrrrr. ! So I put some epoxy glue under the knot. It's that or start over.
When finished, I decided the cream ceramic beads are a bit too big. They were about 10 mm. perhaps they would work if the cord were 3mm instead of 2 mm. The button I used is vegetable ivory from a special type of palm tree here in Namibia. Makalani Palm
On the blue and green bracelet I used tube beads, and a ceramic disk with a center hole instead of a button clasp.
So, not so hard, is it? The hardest part is actually gathering the supplies.
Next month I hope to have an update on my previous post about new designs.
see you then.