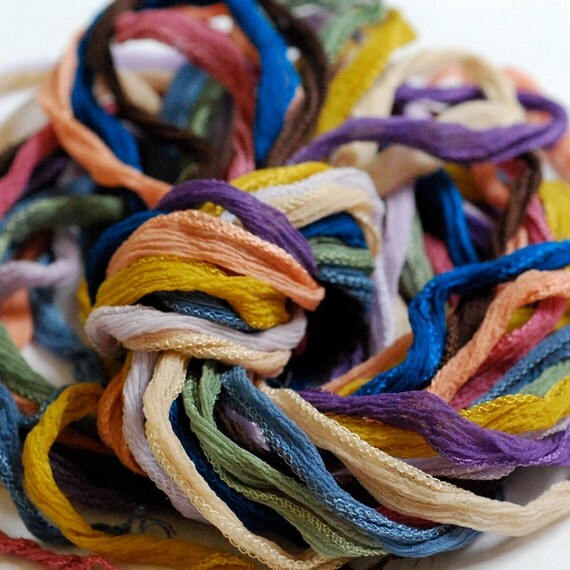 I am feeling the need for color since the first hint of Fall has been encroaching on our summer of warmth. The trees are not so green anymore and the grasses are getting brown. For ceramic pendants and beads, the colorful silks available today for designing jewelry are a quick and wonderful color inspiration now that our flower gardens are fading.
I just love all the colors in the Fairy Silk Bundle in the picture above available from
MarshaNeal Studio
Etsy Shop.
Now I am going to show you some Beads of Clay artist pendants combined with silk ties--all of these pendants are from my own personal collection but you can find more of each artist's work at the link by their name.
See how beautiful this ceramic pendant by
Marlas Mud
looks with this deep rose and multi color silk tie.
Dandelion Bloom pendant
Above are some more color combos in Silk to inspire your Fall and Winter color picks. These are available at
Lima Beads.
And if you are wanting to make color picks that go along with the Pantone color predictions or use a photo from your camera you can use this handy iphone/ipad app to help you out.
There is an updated version of this in the Apple App store and it works best on the newer iphones with OS 4.0 and the ipad. I have not tried this myself. There is also an Android version of this as well in the Android Market.
Hope all these beautiful color combos help you feel better about the change of season. It is the hardest transition for me all year, so I know I needed this color boost.
Thank you for stopping by.