I'm always searching for upcoming trends and ways our clay beads can work into them....I have been reviewing some of my favorite jewelry designers and came up with some concepts to ponder. It may or may not be your thing, some of these little ideas may just pick you up some sales with jewelry designers!
Lucky Brand
is featuring this as part of their new Spring ensemble. These are bone beads.....but I can see some really fun big earthy necklaces in clay beads! I like the white....how often do I make white beads.....never....so I think it's time! This would look great with linen or jeans.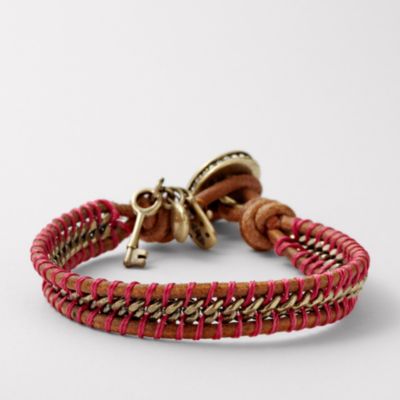 Fossil
has a nice variety of looks this Spring. This is one of many interesting leather/link bracelets they are offering. I don't often see the toggle button offered in clay, but can see it replacing metal or button pieces...This is easy enough to make and I can see it as the focal of a simple bracelet like this!
Sundance
has this necklace below as a new Spring arrival...Really cute...I've been thinking about using crystals on my focal pieces. This year I'll be working on this concept. I love the simplicity of this necklace and can think of a ton of ways to incorporate a little sparkle!
Per
Associated Content
"
Color palettes that will be strong for spring are Black/white, blue/green, brown/coral, white on white.
So not earth shattering news here. However, by using indigo blue and Kelly green, adding bright orange to coral, and mixing white with burnished metals and black with artisan textures, you will find these basic color palettes to look brand new.
Tip: Best selling color fashion
jewelry
is usually a rich mix of tones, finishes, and textures. Vary your hues, and mix transparent, opaque, metallic, and matte beads into your designs....
What I am seeing for this season is a subtle hint of interesting details. Fine beading, engraved pattern, woven wire, and imagery are very good ways to define this category. In general 'critters' are popping up everywhere. Bees, birds, snakes, and butterflies are the most predominant images to emerge for spring."
Other sites are showing large cabochon clusters in necklaces and bracelets. I can see this working with the right connecting elements.
So as we continue to think forward, I hope this will get you thinking spring, building your line and increasing sales for the soon to follow summer shows! If you have any other jewelry trend news, please feel free to share.